When you are getting ready for a move, gathering the right supplies is an important part of the process. It's especially important to gather high quality moving boxes since you'll be using them the most. But how do you know which size moving boxes to get and how many of each size you will need? We're about to explore different moving box sizes and what each size works best for.
Using the correct sizes for your items will minimize damages during your move. Knowing which items to put into each box (and how heavy to load the boxes) makes a big difference when packing for a move. Overloading a box can cause the bottom to fall out and damage the contents and your floors. On the contrary, if you pack a box too light, it could get crushed when stacked in the moving truck.
Common Moving Box Sizes and When to Use Them
As a general rule of thumb, the heaviest items should go in the smallest boxes. Items should decrease in weight as the box size goes up.
1.5 cubic feet (Small Box)
This is the smallest of the general-purpose moving box sizes. Generally, the smallest and heaviest items are packed in this size. For example, this size box would be great for books and records. This size also works great for canned goods or heavy tools. These boxes can hold up to 65 lbs at most.
3.0 cubic feet (Medium Box)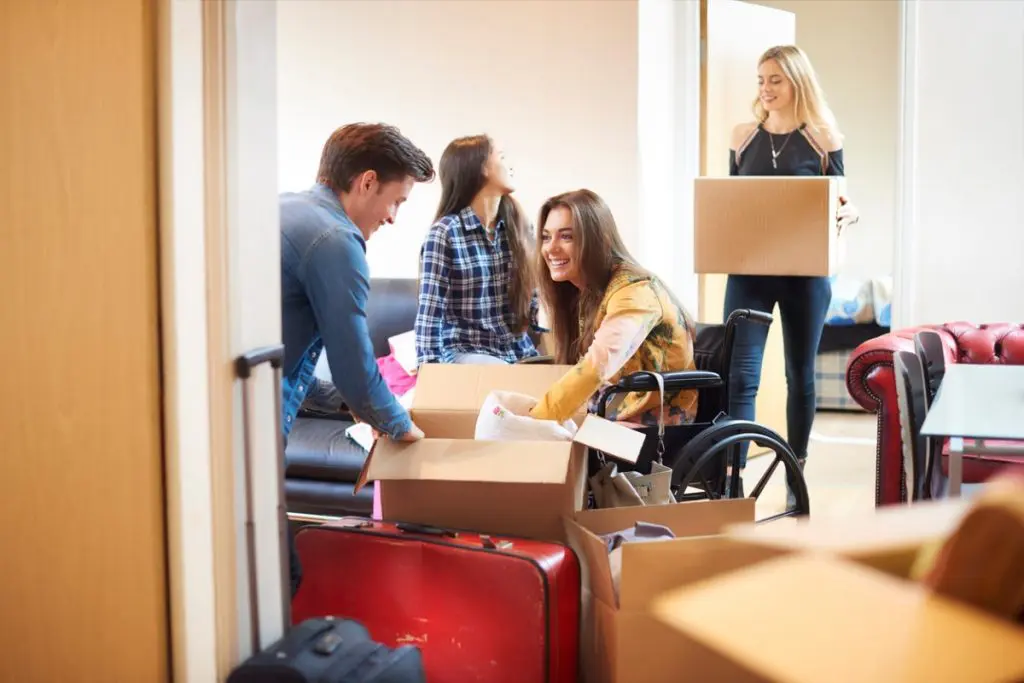 This size is great for smaller and heavier items including small kitchen appliances and lamp bases. It also works well for small outdoor tools, pots and pans, and electronic gadgets. For your electronics, consider preparing a parts box.
4.5 cubic feet (Large Box)
Medium (3.0 cubic feet) boxes and large boxes will likely be your most used boxes, so make sure to grab more of them. Examples of items suitable for a 4.5 cubic-foot box include non-hanging clothes, larger lamp bases, and lampshades. It's also great for linens, non-breakable kitchen goods like Tupperware, and children's toys.
6.0 cubic feet (XL Box)
This size of this moving box is perfect for your lightest and bulkiest items. Examples include winter coats, stuffed toys, blankets, pillows, and area rugs.
Dishpack
This box is the safest because it is extra strong and durable since it's made of multiple layers. Use this box for breakables like any fragile kitchenware, china, and crystal. You can also pack fragile lamp bases and small antiques into dishpacks.
Mirror Carton
Mirror cartons come in various sizes. You can even fit a few pieces together to make them custom-fit for items like pictures, mirrors, or glass tabletops.
Discover more tips on how to pack glass »
Wardrobe Box
Wardrobe boxes are the largest of the standard boxes. They will either be stand-up or lay-down and are often used for international moves. They were made for clothes to remain hanging in the box. Wardrobe boxes are perfect for shipping drapes and curtains. Having them neatly folded and hung will help reduce wrinkling during the move.
What Not to Pack into Boxes
Some items shouldn't go in any moving box but should be transported by you instead. Some of these items include money, firearms, credit cards, laptops, keys, and cell phones. You should avoid packing plants into boxes since you don't want to keep them away from sunlight for too long. In addition, many moving companies refuse to transport hazardous materials. This includes any chemical-containing materials that are highly combustible or potentially explosive. Lastly, avoid packing perishable foods into boxes. You don't want to attract unwelcome guests like bugs or rats.
Hire a White Glove Moving Company
If you don't want to worry about selecting the right moving box sizes to pack your items safely, consider hiring a white glove moving company like Megan's Moving. White glove moving companies know how to pack your belongings into the right boxes for the best protection during moves. Request a quote for your full-service move today!