When it comes to moving your belongings safely, moving blankets are a lifesaver. They provide the ultimate protection for your furniture. Not only do moving blankets protect your furniture from damages, but they also keep your belongings clean, free of dirt and dust. Moving blankets are essential for protecting your most valuable pieces, from your stained wood to your leather couch. The best part about them is that they're reusable.
What is a Moving Blanket?
A moving blanket is a heavy-duty blanket made from a blend of polyester mesh and cotton material. Batting is wrapped inside the durable fabric. It provides excellent protection and prevents your belongings from damages, scratches, and scuffs. They are perfect for items with sensitive surfaces like wood that require extra padding. Moving blankets can come in various weights including lightweight, traditional, or heavy-duty. The thicker they are, the better the quality.
The Difference Between Moving Blankets and Storage Pads
Moving blankets are similar to storage pads but not the same. Moving blankets tend to be heavier and more durable. They are designed to prevent nicks and dents, especially during transportation. A regular moving blanket typically weighs between 6-7 lbs, while storage pads weigh between 3-5 lbs.
Storage pads are designed to protect furniture from dust and light so the furniture's color doesn't fade. They are more lightweight and cheaper. They are not made of woven outer fabric like moving blankets are. Storage pads are more suitable for storage since they are thinner and take up less space in a storage unit.
How to Secure a Moving Blanket
To use your moving blanket properly, start by covering the top of the item you plan on securing. Depending on the size of the item, you may need to use more than one moving blanket. To secure the moving blanket in place so it doesn't slide off, we recommend using mover's rubber bands. Mover's rubber bands are special rubber bands that can stretch over twice their normal size so they can fit over furniture. They are also more eco-friendly since, unlike tape, they are reusable. After you have secured the moving blanket over the item, you'll want to turn the item around to make sure all sides are completely covered with blankets.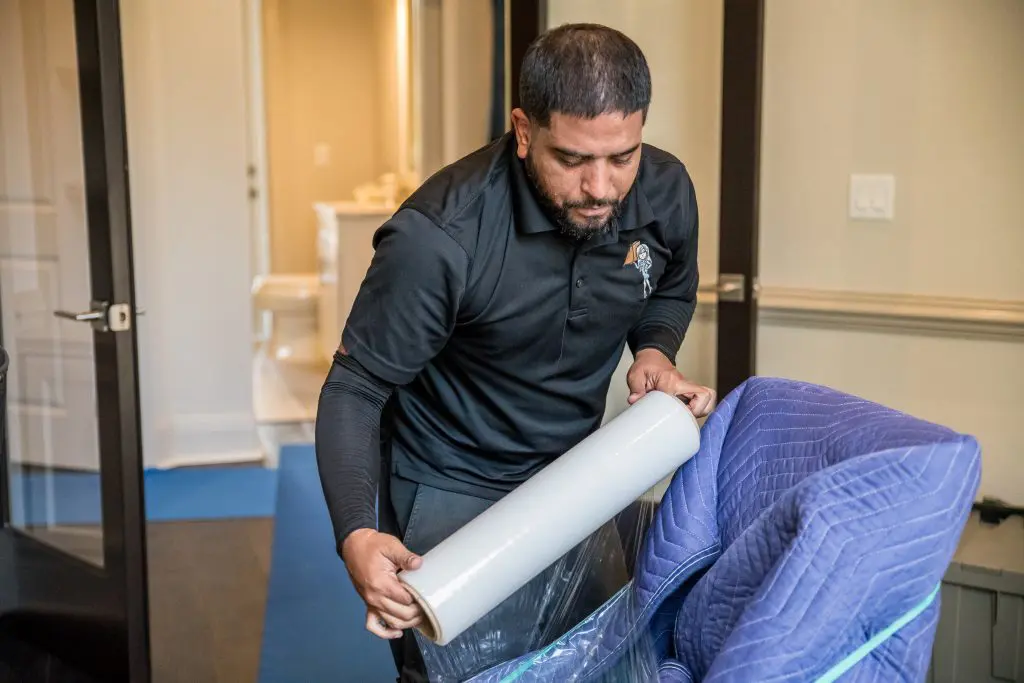 You can also use shrinkwrap to secure the blankets in place. However, if you are placing items in storage, avoid using shrinkwrap since the plastic will trap moisture. This could cause mold to grow under the plastic shrinkwrap which could warp your furniture. Shrinkwrap can also cause pressed wood to expand and crumble.
Moving Blankets Are Worth the Investment
When it comes to moving, having the right supplies makes all the difference. Although you may be saving money upfront by not buying the right supplies, you could end up spending more if your belongings are damaged. Damages often cost way more than the right moving supplies. That's why moving blankets are worth the investment. You only have to purchase them once and can keep using them for future moves. You can even rent them from a moving company for temporary storage.
Purchase moving blankets from a store, online, or from your moving company. If you anticipate moving often, we recommend choosing high-quality blankets that are thicker and more durable.
For more tips on how to have an easy move, check out this post.
Hire a White Glove Moving Company
Don't want to worry about procuring all the right supplies for your move? Consider hiring a full-service white glove moving company like Megan's Moving. We have all the right supplies to move your belongings from your current home to your new one safely and securely.
Schedule a consultation today with one of our moving experts »