There's a lot to consider when preparing for a move. Although moving quickly and efficiently is important, it's even more important to keep your prized possessions in great shape. Ideally, you don't want to sacrifice one over the other when it comes to your belongings. This is especially the case when it comes to more expensive items like leather furniture. We have previously discussed how to protect furniture during a move, but this post will focus on how you can protect leather furniture in particular.
Materials for Packing Leather Furniture
When it comes to moving any of your belongings, using the right supplies will ensure your move goes well. If your items aren't properly protected, you could end up paying more for replacements. Protect your investments with the right materials. Here are some materials that will help protect your leather furniture during a move.
Moving Blanket
Wrap leather furniture in a moving blanket to prevent it from getting scratched or scuffed. Moving blankets are made of durable fabric with batting wrapped inside. This makes them the best choice to prevent scrapes, dents, and abrasions. Refrain from using sheets or thin blankets because they can tear easily. Moving blankets will also protect the leather from dirt, dust, and moisture.
Moving Rubber Bands
Moving rubber bands, also called pallet bands, will help secure your moving blanket in place so it doesn't fall off. Unlike regular rubber bands, moving rubber bands can stretch to over twice their normal size and can fit around a variety of furniture sizes. These bands are better than tape because they are reusable. They also won't leave a sticky residue on your moving blankets or furniture.
Shrink Wrap
Besides moving rubber bands, you can also use shrink wrap to keep the moving blankets in place. Just make sure not to shrink wrap the entire piece since leather needs to breathe. If you shrink wrap leather furniture completely, it could cause the leather to "sweat" and the moisture will stain the leather or lead to mildew. It's also not the best idea to shrink wrap leather directly since the plastic can create condensation and lead to mildew. In extreme heat, the shrink wrap could even melt and stick to the leather.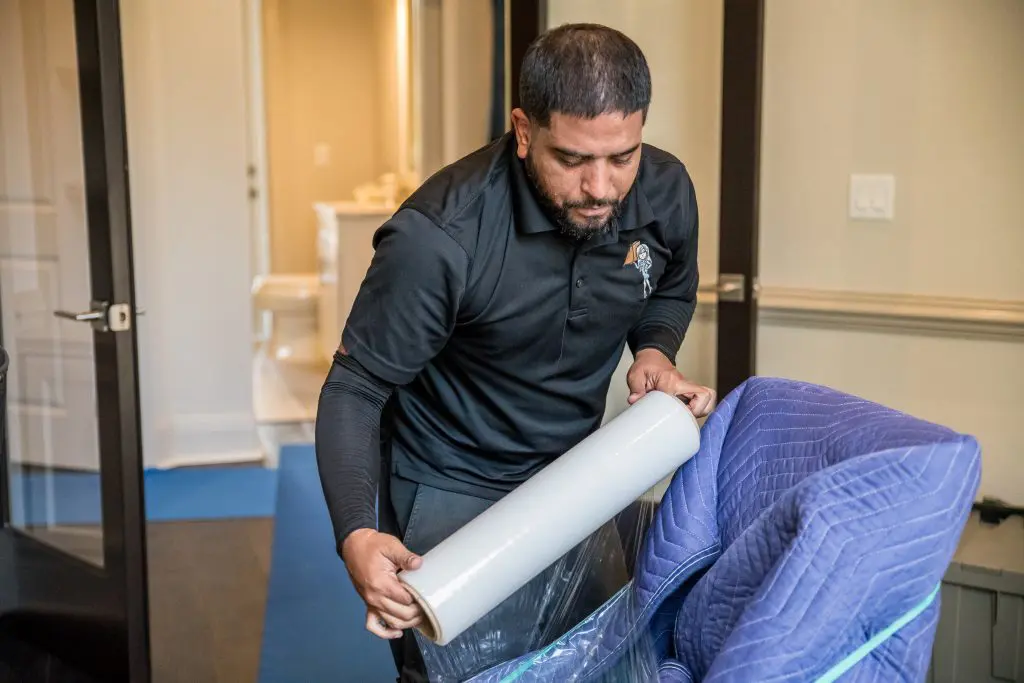 Storing Tips
If you need to store your leather furniture, make sure to choose a climate-controlled storage unit. Florida gets hot, and the heat can cause your leather to sweat, leading to damage. Extreme heat and dryness also make the leather susceptible to cracking and peeling. While you keep your leather furniture in a storage unit, make sure to keep it covered. This will protect your furniture from dirt and pest infestation as well. Avoid placing any items on top of your leather pieces so that you don't compromise the leather's shape.
Moving Tips
Once you move your furniture inside your new home, you can place moving blankets underneath the feet. This will help you transport the furniture without ruining the floors. You can simply slide the furniture rather trying to carry it.
What Not to Do When Moving Leather Furniture
Never Use Tape
This one is pretty self-explanatory. If you use tape, you will destroy the leather once you remove it. It can take off some of the finish and color, and it can leave a residue on the material.
Never Move Leather Furniture Without Protection
Leather is prone to scratches and scuffs, so the chances of ruining your leather furniture by moving it without protection are high.
Hire a White Glove Moving Company
Don't want to worry about moving your beautiful leather furniture on your own? Make sure to hire a company that knows how to safely move your leather furniture. A white glove moving company like Megan's Moving will know how to properly protect your leather furniture as well as all of your other valuable pieces. Request a quote for white glove moving today.