If you're prepping for a move, packing up your bathroom can feel like a daunting task. Bathroom drawers and cabinets accumulate a variety of miscellaneous items that need to be sorted through. To make it easier, we've gathered some tips on how to pack your bathroom more efficiently. The bathroom should be one of the last rooms you pack since you'll most likely be using many of the items daily before your move.
Declutter
To start, you should declutter your bathroom before packing anything. Get rid of any items you no longer need or use. This includes any expired medication or old cosmetics. Throw out anything broken, dried out, or rarely used. Consider discarding any towels or linens that are stained or damaged. Another option is to use old towels or rags for the final deep cleaning of your home.
Gather Moving Supplies
Next, make sure you have all the materials needed to pack up your bathroom. You'll need small and medium-sized moving boxes, bubble wrap, moving tape, and markers to label the boxes. Sealable plastic bags work well for storing toiletries, so consider keeping them at hand. They can help prevent leaks or spills. Gather any original packaging for appliances if you happened to keep them.
Sort Items into Categories
After you've finished decluttering, it's time to organize. Start by separating all your items into categories. Different categories may include appliances, cosmetics, paper products, medications, and cleaning supplies. Be sure to separate fragile items like glass bottles, so you can pack them with extra care.
Keep Bathroom Essentials Separate
Now that everything's organized, separate the items you'll need to use right away so you can easily access them as soon as you move into your new home. This includes items you use every day, like shampoo, conditioner, soap, toothpaste, floss, toilet paper, and deodorant. Each family member should pack their own bathroom essentials bag.
Use Labeled Boxes
Once your items are sorted by category, place each category into its own set of boxes. Be sure to label the boxes as you pack. Be specific when labeling, especially when you are packing multiple bathrooms. If you want to keep each bathroom separate, label which bathroom on each box. For instance, write out "Primary Bathroom" or "Kid's Bathroom" on the appropriate boxes to keep things organized and efficient.
Pack Towels and Linens
Consider washing all of your towels and linens before packing them. That way they are fresh and clean before you unpack them in your new home. The best way to pack towels and linens is by neatly folding or rolling them up. This helps conserve space while preventing wrinkles.
Pack Framed Objects
When packing framed objects, it's best to find the appropriate-sized boxes. Protect your framed artwork by wrapping each piece in bubble wrap. For framed mirrors, wrap them up in moving blankets. Follow these tips on how to pack glass properly.
Pack Cleaning Supplies
When packing cleaning supplies, be sure to pack them upright to avoid any spills. If you are hiring professional movers, keep in mind there are some hazardous bathroom materials that are prohibited to move by law. These include bleach, aerosol cans, disinfectants, acids, ammonia, nail polish, and nail polish remover.
Hire a White Glove Moving Company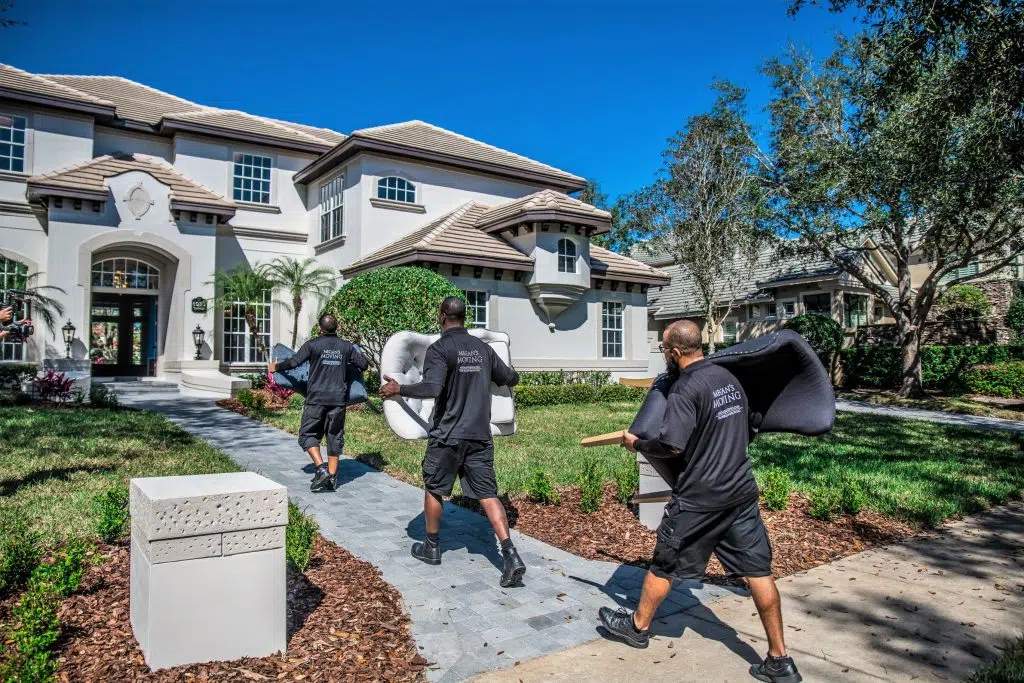 We hope these tips on how to pack a bathroom for a move were helpful. Packing a bathroom can be tedious. Rather skip it altogether? Consider hiring a white glove moving company like Megan's Moving. As a full-service moving company, we can assist you with the whole moving process. We take care of everything from packing to unpacking and setting everything up in your new home. Request a quote from one of our moving experts today!