Getting ready to move? There's a lot to think about and plan for when you're preparing to relocate, but there's one thing that should always be top of mind: your safety! It's easy to get caught up in the logistics of your move, but it's important to take the proper precautions. Not only will this reduce the stress of moving, but it's crucial to avoid things like unnecessary injuries. Here is a checklist of moving safety tips to help make your move a little easier.
Pack Carefully
To start, make sure to pack your items safely and securely. This includes things like using bubble wrap and packing paper to protect fragile items and placing heavier items at the bottom of boxes. Also, keep in mind the supplies you'll need to pack different types of belongings properly. For example, you'll pack your wardrobe entirely differently than how you'll pack your kitchen items. Take your time and make sure you're taking extra care. This will help the rest of your move run more smoothly.
Inspect Everything
If you're renting a truck, thoroughly inspect the vehicle before driving it anywhere. You'll want to check the brakes, tires, and any other safety features. Check how you'll be packing your boxes inside the truck, and include padding if you can. The same goes for anything you'll be using for moving boxes. Faulty equipment will not only be inconvenient, but dangerous. Make sure you have a sturdy dolly that can handle heavy weight.
Dress Properly
Don't forget to dress appropriately for moving day. Wear comfortable athletic shoes and clothing that won't get in the way of moving heavy items. Gloves can also be helpful for moving your fragile items. Check the weather ahead of time. You don't want to overheat with all the lifting and moving around. Similarly, you don't want to get caught unprepared on a chilly day.
Plan for Breaks
The last thing you want to do is be moving all day, start to finish. Leave enough time for breaks and recharging. To make sure you're keeping your strength, focus on staying hydrated and eating well during this time. Meal prepping beforehand is a great idea. Pick healthy foods that will help you refuel for when it's time to get back to any physical activity.
Take Extra Precaution
There's no such thing as being too prepared for your move. Even minor injuries can derail your plans, so it's best to keep a well-stocked first aid kit on hand just in case. Another tip is to make sure someone is with you at all times when loading and unloading items. Even when you think it's not necessary, it's best to stay on the safe side in case of emergencies. Remember, your health comes first.
Lift Properly
When it comes time to move all your boxes, this is when you need to be the most mindful of your wellbeing. You need to be using proper lifting techniques to avoid any strain. Wondering if an item is too heavy? Don't risk lifting it. It can be frustrating when you want to move quickly, but an injury will make your move take even longer. Stick to what you know you can reasonably lift, and call in assistance or use a dolly for the rest.
Secure Your New Home
Once you're unloading at the new home, you'll want to make sure the house is safe and secure. Familiarize yourself with all the locks and security measures in place. This is important for preventing any kind of damage or theft. You'll want to ensure you and your family feel comfortable and have peace of mind when settling into the new space.
Hire Professional Movers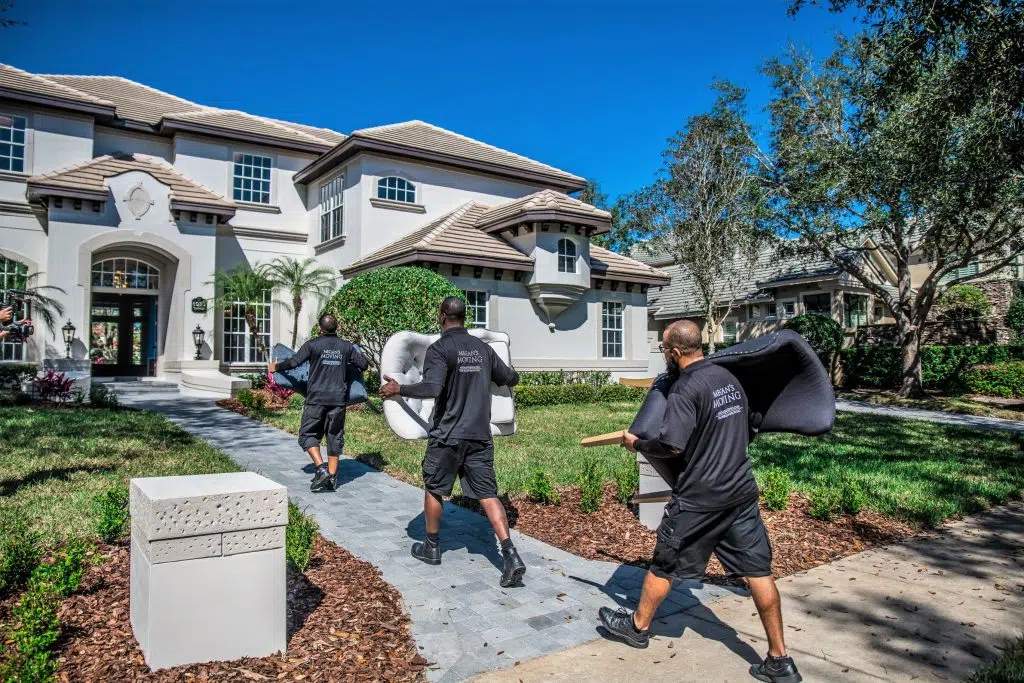 There are a lot of moving safety tips to keep in mind, but the best way to put yourself at ease is by calling in professionals. Megan's Moving is a white glove moving company that will help you through your entire move. That means no worries about packing properly, vehicle safety, or unloading at your new home. If you're ready for the best moving experience, request a quote from one of our moving experts today!